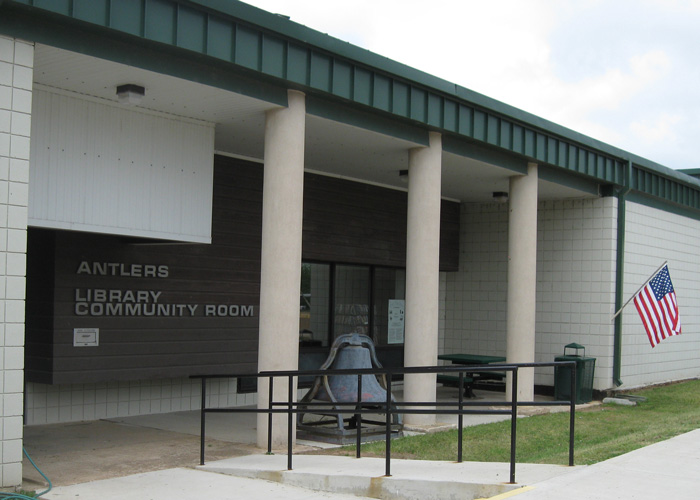 Our Mission
The Library aims to be the place where everyone gathers for learning, for leisure, and for life.
Location
The library is located on the south end of High Street, next door to City Hall and across the street from the Police Station. Our mailing address is 104 SE 2nd Street, Antlers 74523.
Hours of Operation
Monday Closed
Tuesday 10:00-6:00
Wednesday 9:00-5:00
Thursday 10:00-6:00
Friday 10:00-5:00
Saturday 9:00-12:00
Sunday Closed
Holiday Closings
The library closes on the following holidays and some Saturdays directly before or after holidays:
New Year's Day
President's Day
Martin Luther King's Birthday
Memorial Day
Columbus Day
Independence Day
Labor Day
Veteran's Day
Thanksgiving Day
Day after Thanksgiving
Christmas Day
Library Board
The Antlers Public Library shall be governed by a board of five members appointed by the mayor with the approval of the city council. Appointments to the library board shall be made on the basis of ability, understanding of the total responsibilities and objectives of public libraries, and an active interest in the attainment of these goals. All library board members shall serve thereon without compensation. (Antlers City Ordinance Chapter 17 Article 3 Section 3)
Meetings are held the first Tuesday of the month at 5:00 unless otherwise noted. They are open to any who wish to attend. The meeting are held in the library community room, unless it is a voting day. On voting days, the meeting will be moved to the City Hall Council. View the agenda.
MEETING RESCHEDULED FOR 9/3/20 Thursday at 5:00 pm.