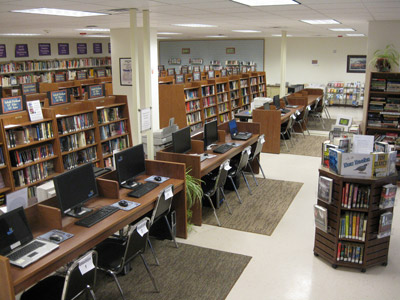 The library has several computers for use by the public. The computers offer Internet access and popular computer programs for word processing, spreadsheets, photo editing, and desktop publishing. Some time limits may apply to the use of the public computers. The computer usage is free, but printing is not. See our fees list for more on printing charges.
Public Computers
Library membership is not required for computer use.
Patrons must be 18 or older for unrestricted use of the computers. Proof of age may be requested.
Minors 14 -17 may use the computers if they have a parent- or legal guardian-signed permission form. Permission forms are available at the front desk and must be signed in person (both student and parent) at the library.
All minors may use the computers if they have a parent or legal guardian in the library during use.
Students may use the computers (without adult supervision or signed permission) to take Accelerated Reader tests or to type or research a school assignment.
Limit of 2 persons per computer.
Files may be accessed from most storage mediums.
No programs may be installed or downloaded onto the computer.
The library staff is available to assist patrons with basic computer and Internet use, but cannot provide instruction in the use of particular software applications or websites.
Transmission of any material in violation of any U.S. or State regulation is prohibited. This includes, but is not limited to the following copyright material, threatening or obscene material, or material protected by trade secret. Users will not access sites with material deemed "harmful to minors" (O.S. 21 Supp. 2000, 1040, 75-77).
Like Internet access, the use of the public computers is a privilege, not a right, and inappropriate use will result in a cancellation of those privileges. Library personnel will deem what is inappropriate use and their decision is final. Also, library personnel may close access at any time as may be required. The libraries staff or library board may at any time deny, revoke, or suspend specific user accounts.