Also known as the Antlers Library Community Room. This room is housed in the Antlers Library building located at 104 SE 2nd Street, Antlers. (It is sometimes confused with the Pushmataha County Community Room located at 300 SW 4th Street and managed by the Pushmataha County Commissioners.)
The meeting room is approximately 1700 sq. ft. and holds about 130 seated without tables.
The 2021 meeting room renovations were made possible by a USDA Rural Economic Action Program (REAP) grant. The City of Antlers would like to thank Kiamichi Economic Development District of Oklahoma (KEDDO) office for its assistance in applying for and administering the grant.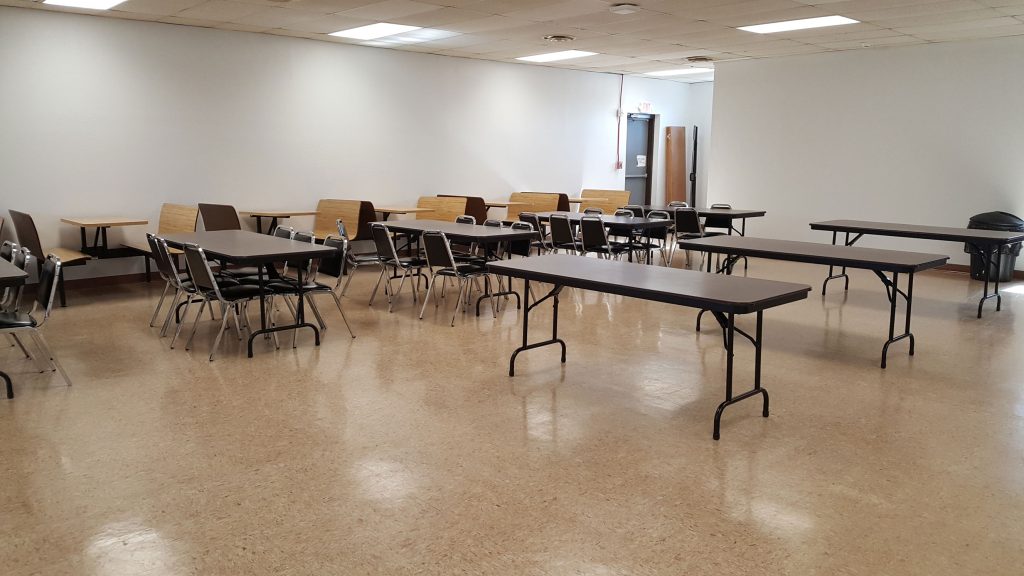 Availability is on a first-come, first-served basis.
Two Ways to Book:
Per Day Bookings
The room can be rented for a per-day rental fee of $50 with a $100 deposit due at the time of reservation. Per Day bookings are limited to all day (5 am-midnight) on Saturday, Sunday, Monday, and Library holidays or Tuesday – Friday 6 pm until midnight. Limited to one booking a month per group. May be reserved six months in advance.
Hourly Bookings
The room can be rented for an hourly rate of $15 with no deposit on Tuesday – Friday during library hours. Library holidays are excluded. Bookings over twice per month must be approved by the City Manager. May be reserved one month in advance.
Reservations
The Antlers librarian will collect fees and make reservations during regular library hours. Reservations and/or cancellations are to be made in advance, in person, with the librarian during regular library hours.
Check, cash, or money order is accepted. No credit or debit cards.
Deposits may be retrieved from the Antlers Public Librarian, during regular library hours, after the room has been inspected for damages.
Rules and Regulations
The room is stocked with tables, chairs and other equipment suitable for meetings of all types. It also has a sink and a microwave for public use. To ensure needed equipment is available, print out the Equipment List (pdf) and submit it with the room deposit.
At times, books or library equipment may be stacked in the room.
Furniture may be moved, but must be returned to its previous order when finished.
No alcoholic beverages or illegal drugs are allowed.
The group reserving the room is responsible for disciplining members.
After library hours, present receipt of payment to the Antlers Police Department (across the street) for a key.
General rules and regulations are binding for all groups. Variances are allowed with the approval of the City Manager or City Council. The use of the Library Community Room is governed by the laws of the City of Antlers in Chapter 17, Article 1. Updates to the rules may have occurred.